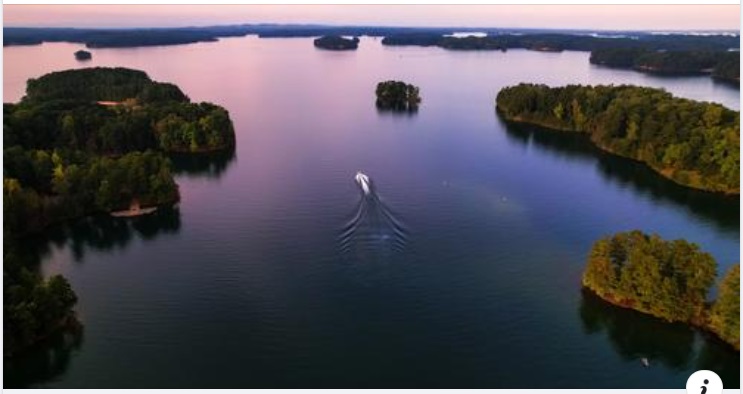 Man who died after jump into Georgia's Lake Lanier possibly electrocuted
A 24-year-old died Friday after he was suspected of being electrocuted jumping into Lake Lanier from his family's dock. The massive reservoir in northern Georgia has a macabre history, and there have been calls in recent months for it to be cleaned up for safety reasons.
Just moments after jumping into the water on Thursday afternoon, Thomas Milner screamed for help, according to Forsyth County Sheriff's Office spokeswoman Stacie Miller.
A family friend tried to use a ladder to rescue Milner but couldn't, the spokeswoman said in a statement. Then, neighbors took a boat into the water, and one man dived in to save Milner. But after feeling a "burning sensation that he recognized as an electric shock,"the spokeswoman added, the neighbor swam to shore to turn off the power box that supplied electricity to the dock to operate the boat lift. The sheriff's office said the death remains under investigation.
Lake Lanier has a deadly reputation in Georgia, and myths about its being haunted have long circulated. In May, an online petitionsigned by 5,000 people sought to "drain, clean, and restore" the lake for safety reasons. Fashion stylist Tameka Foster, ex-wife of R&B singer Usher, started the petition; her son died on the lake 11 years ago when a watercraft struck him as he floated in an inner tube.
Between 1994 and 2022 at Georgia's most famous manmade lake, at least 76 people died in boating incidents, and there were 140 drowning deaths, according to the Georgia Department of Natural Resources.But the lake's popularity does not necessarily explain the high number of fatalities. Lake Allatoona, 40 miles west of Lanier, has a similar number of visitors each year but one-third of the deaths, according to the Oxford American.
In Milner's case, the young man's neighbor told the sheriff's office that he re-entered the water after cutting off the power and managed to pull Milner onto the dock. Milner was given CPR by his uncle until medics arrived to take him to Northside Forsyth Hospital, but he succumbed to his injuries the next day.